There's no question: every serious homebuyer looks at a builder's floorplans. Interactive floorplans engage and retain visitors more than any other element of a builder website, and studies show buyers who spend time on the floorplans are extremely likely to take an offline action like driving by a community or making an appointment. So, it makes sense to make them more compelling with interactivity.
Benefits of Interactive Floorplans
Here's how interactive floorplans are one of the best ways to engage and keep home shoppers on a builder's website:
Immediately engages homebuyers with informative plans. These interactives elements create a reason for visitors to stay on your website longer and increase the chances they become a lead, make an appointment or visit a community.
Allows homebuyers to personalize floorplans to suit their needs and budget, and create a custom e-brochure to share with friends and family. This creates a sense of ownership with potential buyers before they even visit your sales center.
Unfortunately, most interactive floorplans come with too much clutter, glitzy but unnecessary tools, and many seem to overlook the most useful features buyers want: a clean and simple user experience, and well-organized, printable e-brochures.
Graphic Language's Interactive Floorplans
Our interactive floorplans give buyers exactly what they need, and nothing they don't. We build simple, clean, effective floorplans with well-organized, printable e-brochures for both mobile and desktop that buyers love using.
We've helped numerous homebuilders make interactive floorplans part of their homebuyer's digital experience and we can do the same for you. Our mobile-friendly interactive floorplans create a seamless digital experience where they can see all of their options, elevations, and photos in one place.
Here's what our innovative interactive floorplans include: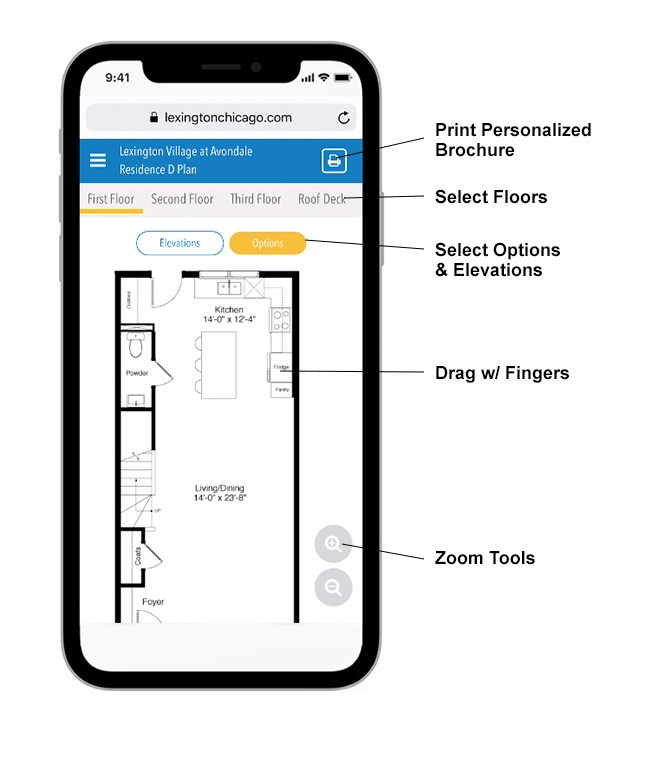 One simple interface to personalize floorplans with structural options and create customized e-brochures
Instantly add/swap floorplan features and options (up to 6 options per floor)
Select from elevation exterior options (up to 4 elevations per plan)
Select desired elevation to be printed on e-brochure
Display database-driven content such as price, logos, map, and directions
View color-coded options on floorplans + sq. footage
Print clean, full-color 1 to 2-page e-brochures with selected preferences, sales office map, directions, contact info, and hours
Watch integrated YouTube videos, virtual tours, and 360 tours within the smartPLAN™ interface*
Flip plans*
Showcase plan specific photo galleries*
*Additional fees may be associated with these features
Ready to upgrade your current floorplans to interactive floorplans? Contact us to see how Graphic Language can supercharge your floorplans today.